A WEEK WITH YOGA AND AYURVEDA IN IZERIA MOUNTAINS
IN THE WORLD OF NATURE. 2nd EDITION
2nd edition of a week of rest and breath with Ayurveda, yoga, sound baths surrounded by greenery and silence in the beautiful area of the Jizera Foothills, away from the city.
2 groups:
13-20.08.2021
21-28.08.2021
Dolina Harmonii, Kopaniec, Poland
We have prepared many different attractions and options for both the body and spirit spanning over a whole week for you. The main topic is Ayurveda and getting to know this ancient natural medicine from India. We will show how it can be useful in everyday life.
Once again, we will co-create this retreat with Miriam – a great Ayurvedic therapist with many years of experience who will join us from the Netherlands. Together with another therapist from India, she runs an Ayurvedic clinic in India. Additionally, Miriam runs her own clinic in the East of the Netherlands.
You can read more about Miriam and her extensive experience at the end of the brochure in the "About us" tab.
AYURVEDA
Ayurveda is one of the oldest healing systems in the world. It is sometimes called the mother of medicine. It is a comprehensive and complete science for holistic healing based on ancient Indian spiritual philosophy. It is the art of living in balance on every level: physical, emotional and spiritual.
FOOD
During the entire RETREAT we will serve Ayurvedic prepared on the spot by an Ayurvedic therapist who has gathered his training and experience in India.
In Ayurveda food is treated as medicine to restore balance in the body and mind so it must be as fresh and nourishing as possible.
Its task is both disease and treatment prevention. Our physical and mental health depends on what we eat. Therefore the diet in Ayurveda should be adapted to the human constitution, i.e. the type of body structure, temperament and character.
During this trip we invite participants to Ayurvedic cuisine workshops during which we will learn in practice the secrets of its preparation and health effects.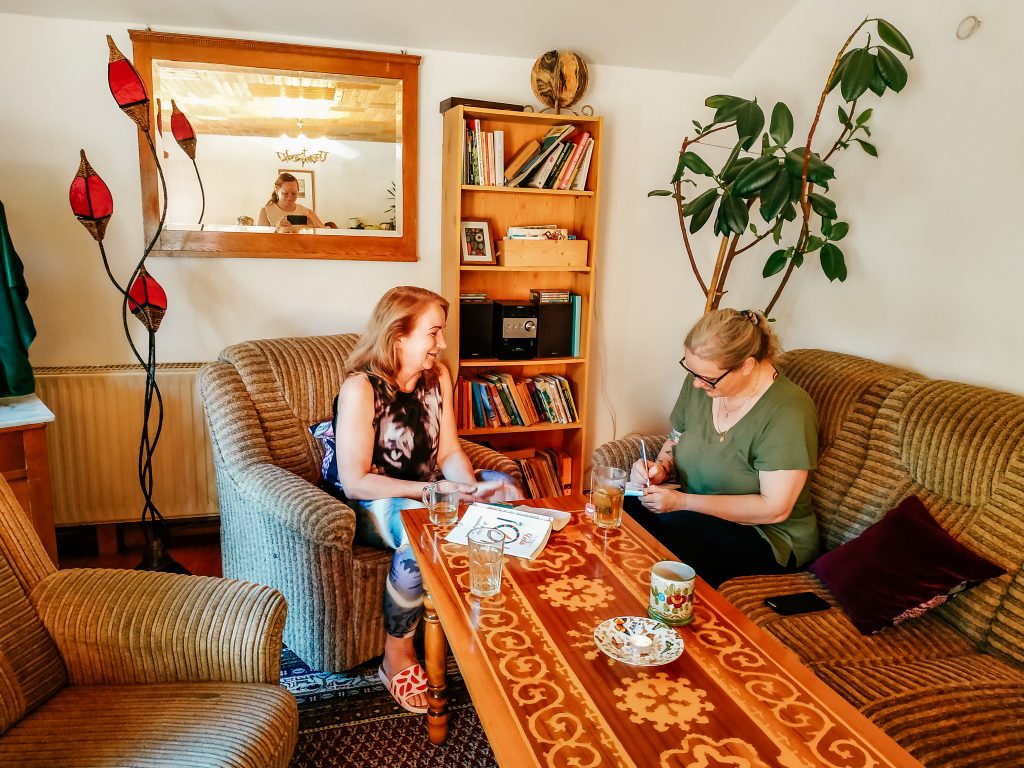 AYURVEDIC CONSULTATIONS
During the trip, we provide health consultations with an Ayurvedic therapist and Ayurvedic treatments (such as massages).
An hour-long consultation with Miriam is planned for each participant in order to establish their constitution and check their health.
During the consultation various diagnostic methods are used such as pulse and tongue diagnosis. We look at whether there is an imbalance in the body and mind and we consider more deeply how to restore this balance. There are various ways to restore balance through nutrition, lifestyle, treatments and / or cleansing.
(The price of the retreat includes a 1-hour consultation session with Miriam)
AYURVEDIC TREATMENTS
During the workshops, each participant will be able to book a session of the Ayurvedic massage or other treatments recommended by Miriam during the Ayurvedic consultation. Agata performs massages and other treatments.
Ayurvedic massage creates a unique experience that focuses on relaxation, stress relief and the removal of emotional blockages. It restores and helps to maintain health, beauty and strength.
You can read more about Ayurvedic massage below.
and healthy food. During this trip you will be able to try your hand at Ayurvedic cuisine workshops, during which you will learn the basics in practice.
(The price includes a 1h of full body massage)
LECTURES & WORKSHOPS ON HYGENIC TREATMENTS – Dinacharya
We offer a series of lectures and workshops on Ayurveda throughout the whole week. Dinacharya is a healthy daily routine. Learning good, everyday habits that are useful for our body and mind hygiene.
Dinacharya refers to a daily routine aimed at maintaining physical health. According to Ayurveda establishing a solid and consistent dinacharya allows the body to attune itself to the cycles of nature, promoting optimal well-being.
YOGA
Ayurveda is the sister of yoga so it cannot be missing on this retreat. We will start or/and end the days with yoga classes led by Dorota.
Yoga has everything we need to stay healthy and keep up both physical and spiritual balance. It stands for the unity of body, mind and breath and its purpose is to restore internal balance.
Yoga is a process of discovering yourself, it is experiencing your body and how it changes day by day. The process and experience are different for everyone but the goal is well-being and inner peace. The practice of yoga makes a person energetic and vital, strengthens the body's natural immune forces.
Yoga also gives much more – harmony with the world, better understanding of yourself, your own body, as well as its needs and limitations. Therefore, while practicing we often learn to overcome old habits to sit and move properly we simply begin to live more consciously and healthier.
Sessions will be adapted to each level of advancement. We will alternate practice with dynamic and gentle activities.
We will also experience deep relaxation during yoga nidra – sleep yoga. Its main goal is to achieve a state of opposite tension, i.e. a state of relaxation, well-being and integration.
Yoga nidra is a method that helps to inspire the process of introspection and passive mindfulness. It is a kind of logical set of physical and mental exercises that lead us to calm down and get to know ourselves more fully. Yoga nidra is a type of exercise that involves being completely passive. It is sometimes compared to an inner journey that consists in observing and experiencing everything that is occurring in the body, mind and spirit at any given moment.
We will become familiar with pranayama and incorporate it into our daily routine, working with our own breath. Working with the breath has a therapeutic effect.
Thanks to it we can calm down, direct the mind from the hustle and bustle of thoughts to one track. Pranayama also slows down the heart rate, calms down, it's a practical tool in everyday coping with stressful situations.
Yoga will introduce us to the day, give us morning energy, revive the body and mind. In the evening it will help you calm down and relax, end the day in contact with yourself.
SOUND BATHS
In the evenings we will relax with Agata's soaking and regenerating sound bath.
During the sound bath the instruments you will have the opportunity to listen to have not only relaxing but also healing properties for our body, mind and soul. Their strong vibrations support the release of energy blockages, cleansing the energy channels of negative emotions that are there. Singing crystal bowls produce sounds that induce a deep state of relaxation that helps you enter meditation naturally. Playing these instruments usually produces an immediate centering effect. The sounds set up a "frequency response" that creates a balancing left / right sync of the brain.
(The price includes 2 sessions of sound bath)
* Important. Contraindications are: epilepsy, pacemakers, acute conditions anxiety and neurosis, psychoses, severe depression. If you suffer from any of the listed above please contact us directly.
THE PLACE
The Harmony Valley is a place of natural strength that has been created with personal transformation in mind. We are often back here with our retreats and this will be already the 5th time for us to spend another week of the retreat here.
It is located in a beautiful, secluded and magical place in the Izerskie Foothills, near Szklarska Poręba. Those seeking a respite from the hustle and bustle of the city will find here a blissful rest, nutritious flavors, inspiring workshops, spiritual exploration and above all the soothing power of Nature.
The Harmony Valley is located in a secluded place in the Jizera Mountains in the Natura 2000 area. We live among meadows and forests with unique fauna and flora and from here we are 1.5 km to Kopaniec, the nearest village. and Szklarska Poręba lies just beyond the hill.
Rooms
Cozy and comfortable double and triple rooms will allow you to take a break from the city noise and enjoy the uninterrupted silence and take full advantage of the benefits of yoga and Ayurveda.
ABOUT US:
Miriam
I am an Ayurvedic therapist, teacher and owner of Ayurdaay Nilayam.
In 2000, in Israel I got acquainted with Ayurvedic massage. I was so fascinated by it that in the Netherlands I started to study it in Nijmegen (east of the Netherlands). Along with my gratitude to be able to offer Ayurvedic massage to people I longed for more knowledge and depth about the wonderful knowledge and wisdom that Ayurveda offers.
In 2010 I graduated from HBO at the Ayurvedic Studies Academy in Amsterdam where I worked for many years as a practical teacher.
In 2017 I started my own training (300 hours of training) in Hengelo as well as in other locations in the country (the Netherlands).
For several months each year I train with Ayurvedic doctors to keep learning, gathering more and more knowledge that I like to share with my students.
In 2015 together with a friend I founded the Manna Home Kerala Foundation in India.
Dorota (Agata's sister)
My yoga story is a story about how passion has become a lifestyle and has become a permanent part of it. Movement was always present in my life but over time I needed to be active not only for my body but something holistic that would engage my mind as well. And so 14 years ago I found my first yoga class and stayed for good.
Over the years I have practiced different styles of yoga: vinyasa flow, power yoga and Iyengar yoga. Currently in my classes I combine what appeals to me most in particular styles adding my dynamics and experience. I try to approach each one individually taking into account the skills, injuries and stage of advancement.
It is important for me that everyone feels taken care of but also motivated to work as best they can. I see yoga as an area of endless development on many levels: from the physical dimension, body improvement, achieving physical fitness, tranquility and relaxation to spiritual development and achieving self-acceptance and inner harmony.
I am learning and developing all the time. Currently, I am in the last semester of postgraduate studies at AWF in psychosomatic yoga practices, I regularly participate in yoga workshops. I run classes at various levels of advancement, yoga for children and in English. I also organize retreats.
Agata (Dorota's sister)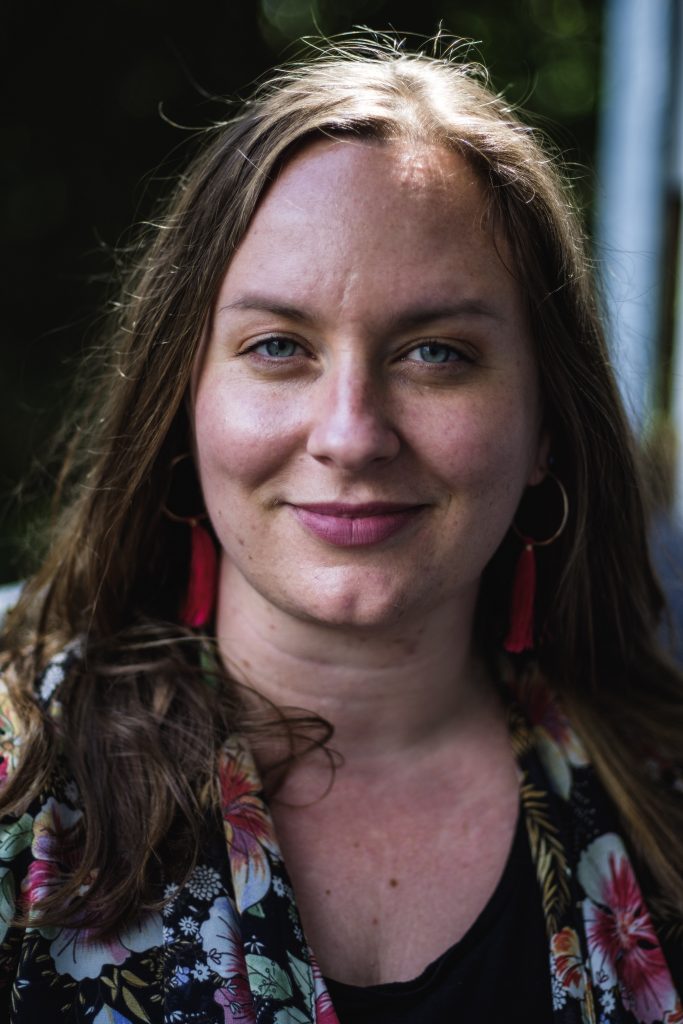 Music has been in my life for as long as I can remember. This is my second skin that I breathe and dream. It is my personal language and my medicine. My first pre-show performances started at the age of three. My music education spans over a period of 15 years.
Each concert, sound bath is a journey to meditation and relaxation for me. I try to feel the dynamics and energy of the group and adjust the music to it.
Through active and passive meditations, most often by me, I want to help participants reach the point of silence and contemplation or let go of the accumulated and no longer serving emotions.
During a massage session or body work only the person on the table counts for me. This moment is only for her and my goal is to help her achieve a state of deep relaxation and bring relief or revitalization, depending on what the person needs.
I like to constantly develop. I am a certified Ayurvedic Therapist and an Ayurvedic Massage Therapist and I have completed a course of marble points (pressure points) for feet. I am in the course of a Medicine Women. I am constantly training in all aspects of Ayurveda (e.g. nutrition) and broadening my knowledge of further Ayurvedic massage techniques. I also organize workshops, retreats, sound healing and meditation sessions. I have created my own line of bath cosmetics that support the work with given intentions. You can find more information on my website www.agata-wholistic-touch.com
EXAMPLE OF DAILY SCHEDULE
(the exact plan will be sent to you 2 weeks before departure)
8:00 – mediation/mantras
8:30 – 10:00 – yoga
10:00 – breakfast
11:00-13:00 – Lecture on Ayurveda 2h / Ayurvedic cooking workshop
13:30 – 14:30 – Ayurvedic consultation / massage
14:30 – 15:30 – Ayurvedic consultation / massage
17:00 – dinner
19:00 – sound bath / yoga nidra / relaxation session
Useful information
Workshop dates:

Group I August 13-20, 2021,
Group 2 August 28, 2021

Registration takes place via the application form:

Group I click here
Group II click here
After signing up for the workshop you will receive an e-mail confirmation of your application with all information and payment details within 48 hours.

Contact: odetchnij.breatheout@gmail.com
Total cost: 

Sign ups until 01.07.2021- 900 euro
after 01.07.2021- 970 euro

Price includes:

8 yoga sessions led by Dorota including pranayama sessions, 2 yoga nidra sessions and meditations
1h consultation with Ayurvedic therapist – Miriam
Ayurvedic cooking workshops
1 session of Abhyanga's full body massage (unless contraindications to this treatment are indicated during the consultation)
4h of Ayurveda workshops

2 sound healing concerts
vegetarian meals from Ayurvedic cuisine cooked by an Ayurvedic cook (2 meals/day plus soup available during the day)

accommodation in double and triple rooms

During the workshops, you can sign up individually for Ayurvedic massage sessions and other Ayurvedic treatments offered by Agata.

The full range of treatments available during the workshops will be available about 2 weeks before the workshop and sent by e-mail

Take with you: a loose, comfortable outfit and a yoga mat (if you do not have a yoga mat – please let us know, we will check if we can help you with this)
Miriam's lectures are held in English. 
Dolina Harmoniii: Kopaniec 69 A, 58-512 Stara Kamienica, Poland
Transport: if it is not possible to travel by own means of transport we promote carpooling among participants. We encourage you to share free places in the car.

You can't get there anyway? Let us know we'll try to help you to organize.
Facebook event kliknij tutaj
The number of places is limited, the order of applications decides.