Massage Ceremony with Sound Healing
Sunday, 26th March, 2 different sessions available 15:00-17:00 & 18:00-20:00
Bluebirds West, Amsterdam
Healing through the medicine of Touch and Sound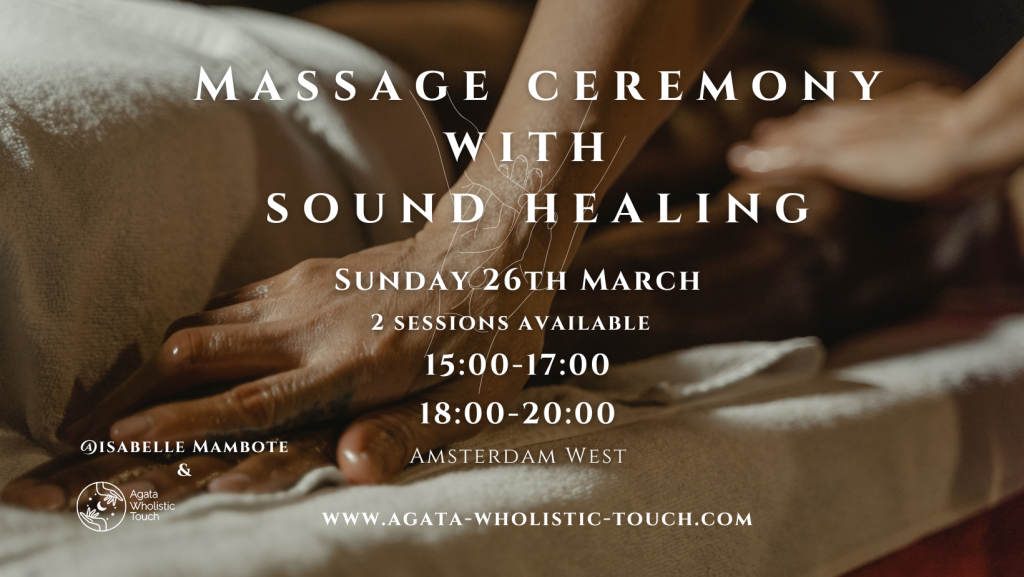 A unique performance combining the 2 medicines of bodywork and sound together.
Would you like to experience something profoundly special? An event crafted for those who are looking for a deep experience, healing for body and soul.
Feel nurtured on many levels. Feel inspired.
Wonderful opportunity to bond with someone special or dear to you during this unique experience.
For this specific event we have very carefully chosen talented Therapists who are at the top of their profession.
THE EXPERIENCE
You are entering a sacred space with a live performance with a healing sound bath.
You will receive a combination of touch and sound therapy designed just for you in the moment.
Once you enter the space we will welcome you with a delicious herbal tea while your therapist will have an intake chat about what do you need from this ceremony.
After that you will enter our sacred space where the magic will happen.
While your skilled therapist will be working on your body you will dive deeper into yourself through a live sound bath with tuned crystal bowls, chimes, drums and more.
Your body is your temple and with our excellent specialists in their field we will assist you to celebrate it. All of this in a ceremonial and mindful setting.
Together we will guide you into a unique experience that will fill your senses.
A unique offer in a exclusive group of maximum 8 people.
Sound Healing
Sound healing can enable and guide us into a deep trance moment of being. Much akin to lucid dreaming, it is a very present state a right here and now, moving between being firmly grounded yet travelling through the ether like substance of our subconscious.
We ourselves as well as everything around us, is at its core in constant vibration. Sound journeys encourage an alignment of these vibrations through self-resonance. It is a re-tuning of our body on a molecular level.
This self-resonance balances our bodies to a natural level, enabling deep states of trance like meditation . They re-tune our own most beautiful instrument, our bodies and minds. They can shake and unblock energetic flows, allowing us to reconnect with ourselves, our ambitions and freeing emotions hidden away in our subconscious.
Sound healing, wave by wave brings us closer to that state of calmness and feeling of completeness that every human longs for in their journey of life. One of the big advantages of this session is unlocking a creativity within you.
Who is this ceremony for
Anyone who is looking for relaxation on a higher level for your body and mind
Those who want to let go of your daily tasks
Anyone who is looking for a deepening the connection with their body
Those who would embrace a unique experience to be shared with yourself or with your friends/ partner/ parent
Anyone who needs to come back to their essence and reset from regular life
DATE AND PLACE:
Sunday, 26th March
Choose 1 of 2 sessions:

Session nr 1:15:00-17:00
Session nr 2: 18:00-20:00

Exchange: introduction price for 1 session €199
The price includes:
2 hours of experience combining massage and sound healing
intake with your therapist
delicious tea before and after the session
healthy snack after the session
session in a beautiful venue in an easily accessible location in Amsterdam West
YOUR THERAPISTS
Isabelle, Agata, Claudia, Dennis and Ria will be taking care of you during the ceremony
Isabelle Mambote, co-creator of the Massage Ceremony
Working hands on as a Massage Therapist since 1998, Isabelle brings her wisdom and experience to the table. Her sessions are often said to be "more than just a massage" as she gracefully integrates many different healing arts to craft the most nourishing moments for her clients. Incorporating Swedish massage as a relaxing base, Isabelle integrates deep tissue, reflexology, cupping, Yasu technique, Access Barrs, and many other modalities to create a customized and special experience. Isabelle assists her clients to return to their center and enjoys seeing the nourishing and positive affects her sessions can have on them. Her most grateful recipient of her hands and heart is her house cat Pookie; making sure Isabelle's hands are clear and calmly centred in purpose.  

To be in contact with Isabelle please send a WhatsApp message to her 0642312510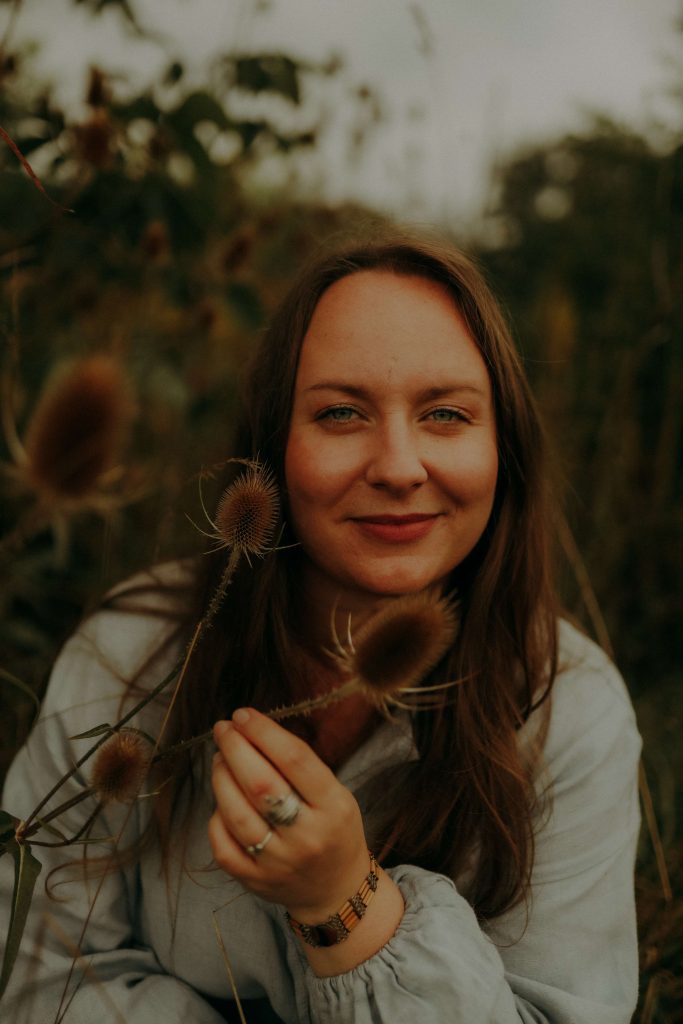 Agata Malczewska as one of the two co-creators of the Massage Ceremony is a Sound therapist, Medicine Woman, Ayurvedic massage therapist & Ayurvedic therapist. She is a founder of Agata Wholistic Touch, a space for relaxation for your body & mind. After several years of shamanic training to expand her work with music as medicine, Agata now works with voice, body & sound, offering reconnecting with your voice workshops, sound bath sessions and shamanic ceremonies (cacao and truffles).
"In my soul I have always been a musician and an artist. Music has been in my life ever since I remember. This is my second skin that I breathe and dream. It is my personal language and my medicine. Thanks to my shaman teachers from Portugal I have learned over these years how to guide others and help them to connect to their inner selves through music."
Learn more and connect with Agata on Instagram @agata.wholistic.touch or at www.agata-wholistic-touch.com
Claudia Kratzheller is passionate about Tango, loves Contact improvisation and has been teaching and dancing both for many years. She also has worked as coach/trainer in the business world for over 11 years, facilitating international Leadership trainings.
After a long career as contemporary dancer she is part of the Contact Improvisation network in Amsterdam and has been teaching Yoga for over a decade in various studios.
Holistic massage treatments are part of her offer, to help people connect to their bodies integrity.
The essence of her work:
Trusting your body as a compass for embodied communication,
to connect, interact and enjoy relationships.
Connect with Claudia at https://www.body-linguistics.com/massage/
Dennis Breedijk is a Holistic Health Practitioner since 2007 and has helped thousands of clients.
Dennis will invite you for a special prepared oil massage with a magical Shaman touch. An awareness journey of the five senses. It will be in tune with your intention.
He offers Therapeutic Massage, Dorn Method as well as Theta Healing and Chakra Healing in his practice in Amsterdam.
Trained by amazing international teachers like Ohasi in Oriental Diagnoses and Chief Dancing Thunder in Shamanism he is honoured to share his knowledge. He believes that we are more than just the physical body – and by using different techniques he can achieve better results to create balance.
Dennis is the founder of Pranic Alignment and Holistic Health Amsterdam. Integrating all he has learned helped him become a great observer, happy father and loving partner.

Connect with Dennis at
www.pranicalignment.com
Ria van Leeuwen for over 20 years works as a massage therapist in different styles of massage. As a Classic Chinese Medicine therapist and Reiki Master she works with the physical and energetic body. She studied in Thailand, India, Bali and the Netherlands.
"Most important for me is what I can do for you. Together we look what serves you best. I work with Aroma, hot stones or just my hands and positive energy. You decide what you need and I will do my best for you with Love."
She is also a Yoga and Qigong teacher and owner of Yogazentrum Nada, beautiful studio in Amsterdam West.
Connect with Ria at www.mamaste.nl.
REFUND POLICY
If cancelled up to 4 weeks prior the event we will refund you 100%.
3-4 weeks before the Ceremony we will refund you 50%.
3 weeks and less: no refunds are possible.
Please email hello@agata-wholistic-touch.com for further questions.