Description
Cacao Ceremony with microdosing and sound medicine
Saturday, 25th March, 13:15-16:15
Amsterdam Noord, Rumah Yoga
Connect with your heart & higher self through a medicine of magic truffles, cacao and sound.
Opening heart and mind an intimate session and powerful journey with the ancient medicine of psylocybin and cacao. These beautiful plants activates the heart and our mind, opening it up. The healing journey will be guided by 2 guides Agata & Alice and a medicine of sound.
Cacao and microdosing of truffles bring out the best in each other. The Aztecs called the psychoactive mushrooms teonanacátl, meaning flesh of the gods. The official name of cacao is theobroma cacao. That means food of the gods. Both substances can work synergistically with each other. Cacao helps to open the heart and the magic truffles the mind.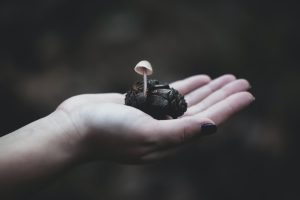 Sacred truffles and mushrooms have been used worldwide in shamanic rituals for centuries. They have been known in the western world for several decades.
These truffles & mushrooms can mean a lot to people who suffer from fears, stress, burnout, sadness, negative self-image, addiction and depression.
The power of psilocybin gives deep insights into yourself and into life. It can reveal where your blockages lie and show you what you can work on.
Microdosing can help with concentration, reduce anxiety and generally feel better about yourself. This is the practice of consuming very low, sub-hallucinogenic doses of a psychedelic substance.
During the ceremony we will connect with our intentions, listen to our hearts and minds. With a medicine of sound together with my friend Alice we will guide you through this journey.
In this circle all voices are welcome. Come as you are.
It is a beautiful exploration to meet your higher self and to open your heart, to deeply connect to your true essence and others around you.
Cacao works gentle on your body, mind and heart, rebalancing your energies to restore the body to its natural state of optimal health. Microdose of magic truffles can help you to expand your mind and perception.
DURING THIS JOURNEY WE WILL:
Activate and awaken the energy of the heart, diving into the center of unconditional love and joy
Connect in the circle with other participants in the safe and friendly environment
Open and take a look into anything that held you back, soften and release it
Enter a deep state of relaxation and peace
Feel more compassion, energy and joy
consume maximum of 1g of magic

truffles or 0.2g of magic

🍄
BRING WITH YOU:
warm and comfortable clothes
water bottle
notebook & pen
Sacred plant of cacao
Cacao, also known as the "Food of the Gods" is a soft yet powerful plant medicine of the heart.
Already ancient Mayan texts described the cacao ceremony to be "heart opening".  Modern research also shows that the active cacao ingredient theobromine is able to widen the blood vessels and stimulates specifically the heart.
It has been used for thousands of years in ceremonies and rituals to help participants connect with themselves, to heal and to access unconditional love and limitless joy. It is a superfood and has numerous health benefits including: high in antioxidants, iron, magnesium and calcium and is a natural mood enhancer. Ceremonial Cacao is carefully prepared and programmed (through energy & intention) to serve participants for their highest and greatest good.
!IMPORTANT! By purchasing the ticket for this event you confirm that you are not experiencing any of the conditions below:
Pregnancy
Schizophrenia (nor any of your family members of the first or second category)
Bipolar disorder (nor any of your family members of the first or second category)
Borderline personality disorder (nor any of your family members of the first or second category)
Psychosis susceptibility syndrome (or history of psychosis)
Severe blood pressure/heart complaints
INFORMATION ABOUT THE EVENT
Rumah Yoga, Distelweg 74C, 1031 HH Amsterdam
Investment:
Early birds until 09.03.22: €70
Regular price €75
The organizer reserves the right to cancel the event at any time with a full refund
Tickets are non-refundable but you can give away your place to the new owner
About Agata – Agata Wholistic Touch
Agata is a Sound therapist, Medicine Woman, Ayurvedic massage therapist & Ayurvedic therapist. She is a founder of Agata Wholistic Touch, a space for relaxation for your body & mind . After several years of shamanic training to expand her work with music as medicine, Agata now works with voice, body & sound, offering reconnecting with your voice workshops, sound bath sessions and ceremonies (cacao and magic truffles) to groups, 1-1 and companies.
"In my soul I have always been a musician and an artist. Music has been in my life ever since I remember. This is my second skin that I breathe and dream. It is my personal language and my medicine. Thanks to my shaman teachers from Portugal I have learned over these years how to guide others and help them to connect to their inner selves through music."
www.agata-wholistic-touch.com
@agata.wholistic.touch
 Alice is a Shamanic Guide, a Tarot Priestess and Medicine Woman of Heart & Soul. She is the creator of Earth Soul Truth, a portal for conscious beings to open the path to their highest alignment. Through private 1-1 transformative journeys, ceremonial work (with and without plants), and shamanic tarot sessions, she guides conscious beings into alignment with their inner truth so that they can actually start living it!. After 10+ years of service in light work and through her personal journey, she trusts deeply in the wisdom and courage in our hearts, and truly believes that by awakening and activating this potent channel within us, we will be able to create a magical reality for ourselves that feels, nourished, inspired & ecstatically empowered.
www.earthsoultruth.com
IG: @aliceming.earthsoultruth